Claim letter sample
Posted by Manjusha Filed in Business English
If you are not satisfied with the quality of a product or service you purchase, you can make a claim against unsatisfactory work. A claim letter must clearly express your dissatisfaction. It must also state what action you expect the service provider to take. Here is a sample claim letter that you can use as an outline for drafting your own claim letters.
Write a letter to the railway authorities requesting adequate compensation for goods lost in transit.
Sample claim letter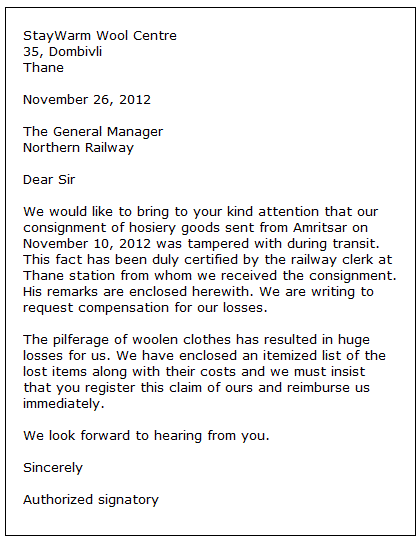 >
See also
How to write a request letter?
Request letter writing tips
Request letter sample
Request letter sample 2
Request letter sample 3
More formal letter writing tips
Business letter writing tips
How to Write an Apology Letter
Business Apology Letter Sample I
Personal Apology Letter Sample I
Email writing tips
Resume writing
How to write a cover letter
How to write a letter of enquiry
Standard phrases used in formal letters